Krakow - European Capital of Gastronomy Culture 2019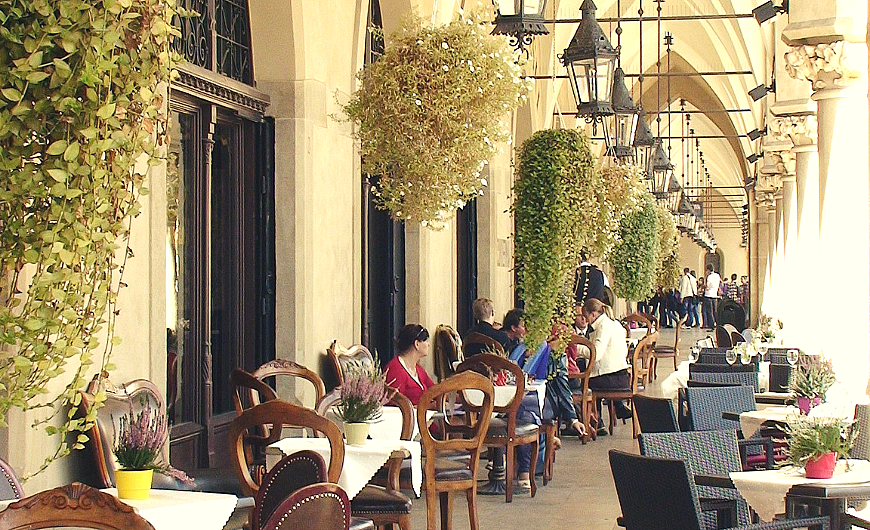 Krakow - European Capital of Gastronomy Culture 2019
Krakow became the European Capital of Gastronomy Culture 2019. In the strict finale, the city fought with Lisbon, but ultimately the European Gastronomic Academy decided that the city of Kraków deserves this title.
Krakow - a city of culinary events
Culinary events take place in this city practically every month. For example: the Małopolska Festival of Taste, which presents regional producers of honey, cheese and cold cuts acting on a small scale; Action Recommendation of Krakow Restaurants, where in the last edition was awarded to as many as 120 restaurateurs.
Restaurants from Krakow can be found on many culinary routes, and many of them receive distinctions from the most important world class culinary critics. For example, 26 objects received the Michelin guide award, 61 went to the "yellow guide" of Gaullt & Millau, and 8 recommended Slow Food Poland. We are not surprised at this success, because Krakow is famous for good recipes, top-quality products from local suppliers, and hospitality.
Obwarzanek - the symbol of the city
The obwarzanek is undoubtedly the culinary symbol of the city of Krakow. Almost every street you can find a characteristic blue cart filled to the brim with obwarzanki or, as someone else prefers - pretzels. They are twisted bread with crispy crust sprinkled with various additions. Although fashion has forced various flavors, there are still three basic variants: with salt, with poppy seeds and sesame seeds.
Krakow is not only obwarzanki, local chefs have mastered the recipes for pierogi in the most different flavors! And those traditional, for example, with cabbage and mushrooms, with meat and sweet with white cheese or fruits; and those in more sophisticated and dry versions like: with spinach, duck and plums or pumpkin.
Did you know that Krakow street food traditions date back to the Middle Ages? At that time, the city's inhabitants could meet pharines, portable stalls with simple food. A delicacy of the XVII century residents was, however, a "Cracow language" (flavored pork neck (garlic, cumin, juniper, salt, pepper) baked with wine, onions, mushrooms and sweet pepper, served in a roll), which is currently experiencing a renaissance of popularity.
Calendar of culinary events in Krakow
2019 for Krakow will be a year marked by culinary events. The plans include: Gastronomic Congress for professionals and culinary art enthusiasts from around the world; meetings of restaurateurs awarded with Michelin guide stars; or the "virtual cooking" action, which will consist in simultaneous preparation of Krakow and Polish cuisine in various restaurants, and all of this will be possible to follow through the internet.
However, amateurs of culinary tourism should carefully plan their stay in Krakow now! April and May is the already mentioned Obwarzanek Festival; June is exceptionally rich in events for a month, we will then participate in the Celebration of the Bread, the Świętojański Fair or a cycle dedicated to Polish Culinary Treasures (rerun of the event in November); July and August is the time of picnics, and in August - the Pierogi Festival; in November, on the other hand, it can ripple in the head of Young Wine.
Calendar of culinary events 2019 is quite tight, and the program is rich in a variety of flavors and aromas, so now open your calendar and make a note of the best time to travel to Krakow!
Calendar of events:
- April / May: Obwarzanek Festival
- June: Polish Culinary Treasures
- June: Bread Festival
- June: Świętojański Fair - culinary path
- July - August: Krakow Picnics
- August: Pierogi Festival
- November 9-11: Young Wine Festival
- November: Polish Culinary Treasures
Belle Epoque Residence Cracow
The Main Market Square, where most culinary events will take place, is about 600 m away from our aparthotel. It means that in just a few minutes you will be in the center of events! We have 29 stylishly furnished apartments: studio type, with a separate bedroom or with a mezzanine. Each apartment has a fully equipped kitchenette, so you don't have to think about what to take with you.
We operate on a hotel basis, therefore we have a reception open from 8:00 to 22:00. In addition, we offer free Wi-Fi, a sauna and a mini gym. If you want a traditional breakfast, you can order it from us. We serve breakfast to the apartments every day: continental, sweet, vegetarian, vegan and gluten-free. Below, one of our sample apartments. If you want to see others, click on the link below.
9.4 - this is the rating given to us by booking.com for the year 2018 on the basis of issued guest reviews who stayed in our apartments.
2019 is the perfect time to travel to Krakow, for example, to get to know the local flavors, participate in a rich cultural life or get to know the inhabitants of this city, always nice and kind.
Powrót do bloga