What to do in Zakopane winter?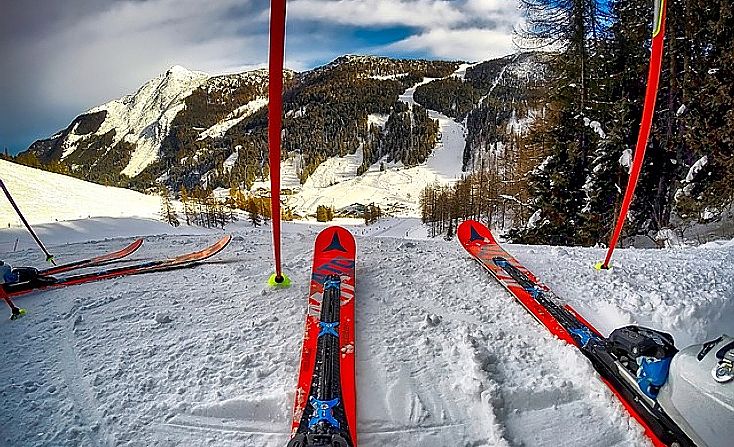 Zakopane - this city comes to mind many lovers of winter recreation in the mountains. It is a perfect place for traveling alone, for couples as well as for a group of friends or families. And at least the answer to the question - what to do in Zakopane winter? - it comes to mind immediately, these are several attractions in this city, which are worth mentioning just in winter.
Where will you go skiing in Zakopane?
Zakopane is a city for lovers of white madness. For both skiers and snowboarding fans. In the area there are numerous slopes, adapted to various levels of advancement. Both professionals and amateurs of this sport will go here.
Kasprowy Wierch Mountain
One of the most popular ski slopes in Zakopane is definitely the one located on Kasprowy Wierch Mountain. Skiers appreciate it for its naturalness, the snow on the local routes is completely natural. What's more, it is the only alpine slope in Poland! At Kasprowy Wierch, we have several ski routes at our disposal: Goryczkowa (length: 1770m), Gąsienicowa (length: 1200m), ski trail from Hala Gąsienicowa (length: 8500m) and the ski run from Goryczkowa (length: 3500m).
Szymoszkowa Glade
This is probably the most popular ski station in Zakopane, one of its advantages are beautiful views of the Tatra Mountains. There are two cable cars: the first - 6-person to the top of Gubałówka Mountain (rather for skilled skiers) where in addition to winter madness you can also relax, drink hot tea, eat dinner or admire the mountains; the second - the smaller rail leads to the middle of the slope, where beginner riders can practice. However, at the bottom station is the KidsPark Szymoszkowa, where the first lessons of skiing or snowboarding can be practiced by children.
Harenda
Here, skiers and snowboarders have a choice of 6 routes. Advanced winter sports fans have at their disposal a route 800 m long, which meets the requirements of FIS and a slightly longer route (900 m) medium-difficult. Slightly less advanced can try their strength on two medium-difficult routes (100 m), and beginners have two easy routes with a length of 200 m and 250 m. A ski kindergarten has been prepared for children. Near the lower station there is Karczma Harenda, where you can eat. Other gastronomic points are also located at the T-bar lifts - Szałas u Curusia and at the upper chair station - a gastronomic point with a viewing terrace.
Nosal
This is another place where skiers willingly manage their boards, especially beginners and children who are just starting their adventure with this sport. There are 6 different routes here: Tatrapoma P1 (length: 200 m), Tatrapoma P2 (length: 145 m), Tatrapoma P3 (length: 250m), Tatrapoma P4 (length: 240 m), Tatrapoma P5 (length: 200 m) , T5 tape (length: 33 m).
When you get bored of Zakopane slopes, you can go ahead to other nearby ski resorts. Kotelnica Białczańska ski resort and Rusin-SKI ski station (in Białka Tatrzańska), Długa Glade and Zadział (Nowy Targ) or Czortyn-ski (Kluszkowce).
photo from szymoszkowa.pl - Szymoszkowa Glade
For cross-country skiing to Zakopane!
Although these are mountains, skiers traveling under a different account will also find something for themselves. In Zakopane itself there are 3 routes: 1 - Central Sports Center - a professionally prepared route for athletes (near the sports stadium and Wielka Krokiew hill); 2 - On Równia Krupowa - the trail is ideal for beginners (a few minutes from Krupówki in the very center of Zakopane on a large meadow) and 3 - Biały Potok - is about 5 km for intermediate skiers (in the Wielka Krokiew area).
Near Zakopane, it is worth going to the other two cross-country trails. One route runs virtually through the entire Chochołowska Valley - Siwa Polana - 7 km of a fairly straight route. The second route is located at the stadium in the Biathlon Center, which, when conditions allow, is connected to the route to Chotarz - Kościelisko - great for beginners, has several small hills.
photo from biegowkiwzakopanem.pl - Kościelisko - Chotarz
Hot baths for cold days
Zakopane and the surrounding area is also a place rich in numerous thermal pools. The most famous of them are the thermal baths in Bukowina Tatrzańska, Thermal Baths Bania, Thermal Baths in Białka Tatrzańska and Thermal Baths in Szaflary. Extensive thermal pool complexes usually also have saunas and SPA zones in their area, where you can order a relaxing massage or care treatment. It is also an excellent choice for families with children - various types of swimming pools are also adapted for children.
Swimming pools with thermal water up to 36 degrees C, brine pools, salt caves and slides are just some of the many attractions provided by the thermal baths. Relax in warm water and beautiful views of snowy mountains and trees is a unique combination that you must experience! Pools located outside the buildings provide an amazing experience when sitting in warm water surrounded by winter weather.
photo from termabania.pl - Thermal Baths in winter time
Winter attractions for everyone
Open ice rink
For those who are not lovers of skiing or swimming pools, other suggestions that many others have in store in winter Zakopane may appeal to you. For example, it is worth going to the open ice rinks in the city, where you can rent equipment and ride to the music while enjoying the Christmas illuminations.
Snowland Snow Maze
This is one of the most interesting proposals in Zakopane, which is only available in winter. The attraction is entirely made of snow. As soon as temperatures reach respectively minus temperatures at the Wielka Krokiew stupas, a snow town is created: a maze, castle and palace. In addition, an amazing attraction for toddlers will be going to the toboggan run or to the winter mini ZOO. Children love this attraction and adults will be pleased.
Kulig - Sleigh ride
In Winter in Zakopane there is no shortage of snow, which is why we will see an advertisement offering a sleigh ride at almost every step. Such an attraction can be provided by the company but also by the owners of beds. Sleigh rides taking place after dark along the route lit by torches are very popular. Sleigh rides are most often combined with bonfires, sausages, music, singing and dancing.
Dog sled ride
Although this attraction came to Zakopane from abroad, it is nevertheless also quite popular. You have two options to participate in this attraction. The first option assumes that when you sit in a sleigh, the marcher drives a sledge composed of Husky dogs; the other, more extreme, assumes that you can be the marcher and guide the pooches. Make sure that the team does not trick you and that you do not get stuck in the winter snowdrift.
Snowmobile ride
This is another proposal for those eager for extreme sensations. A lot of noise and adrenaline spikes in the scenery of the Podhale forests. Just like a sleigh ride, it is combined with a bonfire, roasting sausages and something warm to drink.
World Ski Jumping Championships
Zakopane has been organizing the World Ski Jumping Championships for years. This event has been attracting crowds of supporters of the Great Krokiew for years who cheer on the players. Great atmosphere contributes to everything here. The championships in 2020 will run from January 24 to 26. So if you are planning a winter break during this period, you have the additional opportunity to participate in this event.
photo from triotravel.pl - Kulig (Sleigh ride)
What to do in winter in Zakopane? Extreme experience
If you want to experience something really extreme in Zakopane, it can be diving under the ice. It is much more difficult than diving in the summer and the equipment with which you go under water weighs about 30 kg! Duration is about 30 minutes. However, this is not an attraction for everyone. It requires experience and effort, that's why people who decide to undergo ice diving training or have already undergone such training can participate.
Winter break in the apartment
If the cold is particularly bothersome and the outside conditions are not favorable for walking trips, it is good to take care of a place where you can spend a winter evening away from frost with your family. Our comfortable apartments in Zakopane ApartArt. These are cozy interiors, where you can enjoy your company in warmth, prepare a joint dinner or warm up of the fireplace.
Powrót do bloga