Apartments for employee relocation in Krakow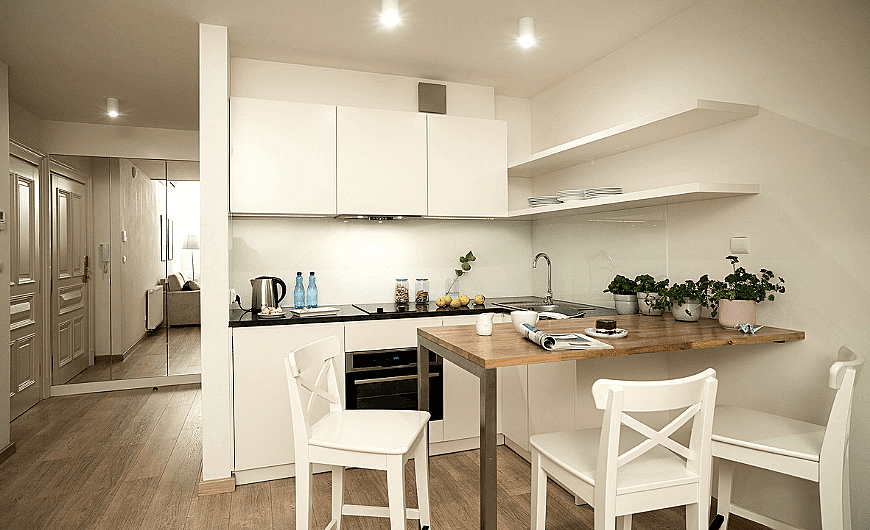 Are you on employee relocation to Krakow and have not yet decided on a place to stay? We would like to recommend you to stay at our Belle Epoque Krakow apartments for a variety of reasons. Most of them equal to the apartments being the closest to feeling at home that you will going to get with accommodation, be it at a hotel or in apartments - but the latter will bring you much closer to the real deal.
Why pick apartments for a relocation over a hotel?
The Belle Epoque Apartments work particularly well as all kinds of work apartments or employee apartments in Krakow - and all the advantages that make it happen let themselves known early on if it comes to picking apartments or hotel for employee relocation in Krakow. Apartments such as ours will make you feel truly at home - more so than a hotel would. A fully equipped kitchenette and bathroom couple with ample work room and free Wireless internet and access to a free washing machine, iron and an ironing board mean there are very few things you won't be able to do at the Belle Epoque Krakow apartments that you would at home.
Why pick Belle Epoque Krakow over other apartments for employee relocation in Krakow?
The Belle Epoque Apartments consciously focus on all the advantages apartments have over hotel - after all, there is a reason why guests pick them over comparable hotels and we embrace it. Our main draw, however, is the unique style. The apartments are located in a genuine vintage townhouse in the heart of Krakow and have the interiors to match it, down to vintage furniture. The location is another great point of the Belle Epoque Krakow Apartments - located in the very heart of Krakow with just a few minutes walk to all of the hotspots, the Town Square included. There is also a grocery store with long opening hours right by the entrance to the apartments for employee relocation in Krakow.
Powrót do bloga