Eco aparthotel - Belle Epoque Residence Krakow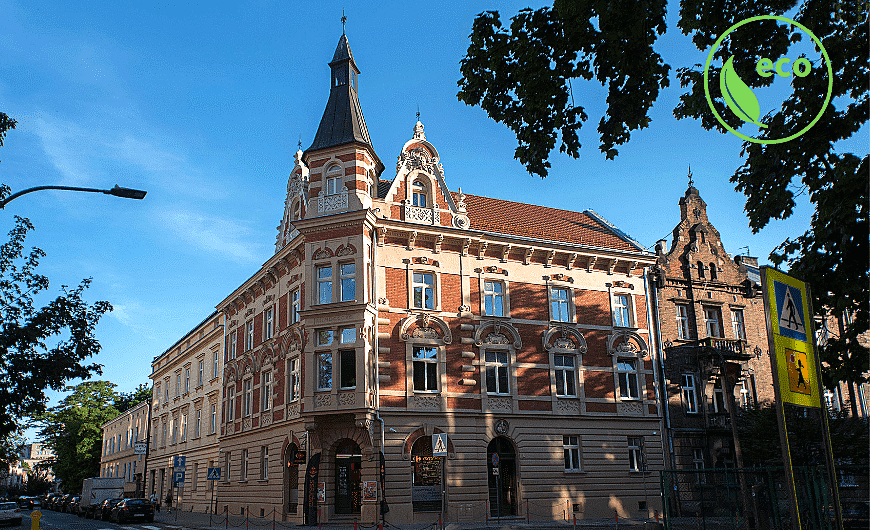 It can not be hidden that pro-ecological solutions sneak into our lives in almost every aspect. Eco packaging, eco functions in electronic devices, LED lighting, etc. Why should it be different in hotel facilities? Why should we take holidays from taking care of our environment? You can also be eco in Belle Epoque Residence Krakow.
Global eco trends in the hotel industry
Our environment can be looked after in various ways, and it is best to start with the things that are most easily and quickly implemented in hotel facilities. That is why it is becoming more and more popular to assemble the right devices to help us be eco, they are: aerators, LED lighting, dishwashers with an eco function or minibars with a high energy class that do not emit freon.
The rules for cleaning rooms or apartments are also changing. Daily towel change or bedding change are less and less practiced. Hoteliers begin to make their guests aware of the fact that the towel hanged on the hanger gives a sign that it does not need to be replaced, and the bedding can be exchanged every 3 days or on special request.
The next step to taking care of the environment is using segregation garbage bins. Unfortunately, it is not always possible to introduce them due to different conditions, but trends show that even in hotels, waste segregation is becoming a standard.
Almost all of us are used to the fact that cosmetics in disposable bottles like bath gel or shampoo are waiting for us in the hotel bathroom. Many hotels, according to eco rules, exchange small bottles for larger packages (supplemented from time to time) or even consciously give up sharing cosmetics for waste reduction.
How do they do it abroad?
The Central Park Hotel in New York was built based on the American building evaluation system LEED (Leadership in Energy and Environmental Design). The walls and ceilings are covered with moss in some places, and ivy climbing on the building's facade. Hotel furniture was made in the upcycling process; bedding, bathrobes and socks (instead of slippers) - organic cotton, and hangers - from cardboard. The time of taking a shower is measured by a special hourglass which sifted after 5 minutes. It is a sign that there should be so much showering.
photo: press materials
Crowne Plaza Copenhagen Towers in Copenhagen is the perfect example of how to emphasize your friendly attitude towards the environment and boast about pro-ecological initiatives and solutions used. Solar panels or IT equipment made of plastics suitable for reprocessing are only some of the solutions that this facility can boast of. In addition, guests can take advantage of a special offer. For refusing daily room service, they receive a discount at the hotel bar.
photo: press materials
The Finca Rosa Blanca Coffee Plantation and Inn in Costa Rica has an underground electrical system that does not interfere with the wildlife that surrounds the property. Guests are offered organic vegetables in the hotel's restaurant, and bamboo fiber sheets are provided in the rooms. Besides, nothing is wasted here, even coffee grounds are used as a natural fertilizer.
photo: press materials
Eko Aparthotel - Belle Epoque Residence - eco solutions used in our facility
Seeing how much the expectations of guests who visit our facility change, we also decided to introduce some changes in the area of ​​our eco policy and in this way contribute to taking care of the environment. Below are some of the eco rules we've introduced:
1) We have deliberately given up the use of cosmetics such as bath gel or hair shampoo, however in our bathrooms (with washbasins and / or in the shower) there are special Eco soap dispensers.
2) Practically every tap has a aerator to manage water consumption effectively.
3) In each of our apartments is a dishwasher with an ECO 50 degree function, we hope you will use it during your stay.
4) We realize that the use of paper towels is very convenient, but for the sake of our environment we have exchanged them for kitchen cloths, which are found in all our apartments in kitchenettes.
5) When ordering breakfast during your stay at Belle Epoque Residence, we will always provide it to you on porcelain tableware, so as not to generate plastic waste.
6) In our aparthotel we use LED lighting, and the light in the corridors is activated on the motion sensor.
7) Each of our apartments is opened with a magnetic card, which means that after leaving the room, we cut off the power supply (except the fridge).
8) You will not find water in plastic bottles in our rooms, why? Because according to eco rules, we avoid plastic packaging, and besides, tap water in Krakow is one of the cleanest waters in the world (immediately after Singapore). Drink it without a doubt.
9) We have also prepared our rules for the cleaning of apartments in accordance with the ecological guidelines:
- stay up to 4 days: cleaning after your departure.
- stays over 4 days: cleaning and change of towels twice a week, bed linen once a week.
- daily cleaning is available at an additional cost.
We hope that you will appreciate our efforts to care for the environment and together with us you will decide to change your habits in favor of a better tomorrow.
This is just the first stage of introducing eco-friendly solutions to our aparthotel. We hope that we will systematically implement further activities aimed at caring for the environment. We will be informing you about all the social changes on our social channels.
Be eco with us!
Book an apartment in eco aparthotel
Powrót do bloga