Apartments for work in Krakow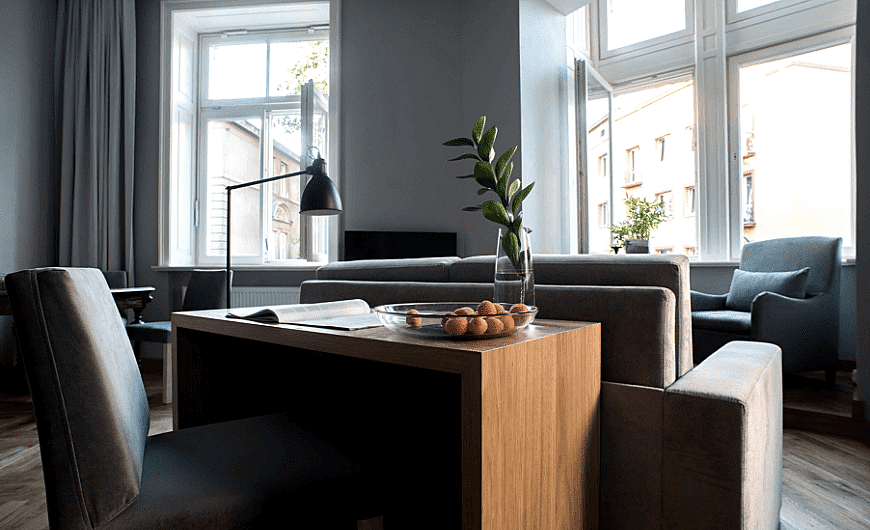 If you're coming to Krakow on a business trip, you simply cannot miss the Belle Epoque Krakow apartments. Our offer has been specifically tailored for you, the business travellers worldwide. We offer here a selection of our apartments that will work best for work trips or meetings in a foreign city. The aparrtments also pack a couple of additional strengths - but we'll get to this later.
Why pick an apartment?
An apartment means freedom of action to the same degree your own home allows. You can wash and iron your clothes, prepare coffee at will, make a hearty dinner or even organize a business meeting. There is, of course, a fully equipped bathroom and kitchen as well as a living part of the apartment.
A business stay in Krakow at the Belle Epoque
Wyselekcjonowane przez nas specjalnie dla Gości biznesowych apartamenty w Belle Epoque Kraków wyróżniają się wysokim poziomem ciszy i spokoju - osiągnięcie pełnego skupienia nie będzie tu wyzwaniem. Apartamenty biznesowe posiadają szybki, bezprzewodowy internet dostępny bez żadnych dodatkowych opłat oraz płaskie telewizory wyposażone w złącze HDMI - podpięcie Twojego laptopa zajmie tylko chwilę. Biznesowe apartamenty w Belle Epoque Kraków posiadają także wygodne miejsca przeznaczone szczególnie do pracy.
Our handpicked apartments for business guests are all calm, quiet apartments so you can work without noise or challenges. All business apartments come equipped with quick, wireless internet at no additional charges and HDMI equipped flatscreen TVs you can quickly hook up your laptop to. The business apartments in Krakow at the Belle Epoque also have designated work areas for the business-minded.
Choose Belle Epoque Krakow apartments!
No matter which stylish apartment at the Belle Epoque Krakow you pick, you're choosing a genuine history that's encapsuled in the place. The wonderful Old Town location means most business areas is close by and easily reachable. If after working hours you still have the time to enjoy Krakow, the Belle Epoque's location will make it quite easy to enjoy all the sights. If you want to cut down on time in the morning, we can bring a delicious and filling breakfast right to your doorstep. Right next to the apartments there's a Carrefour Express grocery store as well as plentiful public transit outlets. There are car parks available around the apartments. Click and see which Krakow business apartments will work best for you!
Powrót do bloga